Kya -  1-7-08    to  10.26.22

Krystal Jala Jahzara of Lionridge, SC, FCh, ET2, CGC, HIC, RE, CAA, CD, GN

Sire: DC Lionridge's Remington, MC  "Remy"
Dam: CH Krystal's Limited Edition, RN  "Leilani"

Kya's Pedigree

Whelped 1/7/08
Degenerative Myelopathy(DM): OFA Normal

 
2015
On the same day, Nov 6 at the Southern CO KC trial, Kya earned her Rally Excellent and Graduate Novice titles! 
2014
Kya earned her Rally Advanced title on 1/18/14 at the LPDTC Obed and Rally trial in Greeley, CO!

2013

Kya earns her CD title from the Novice A class and 4th place at the Denver shows on Friday Feb 15, Plum Creek Kennel Club.


2012
We had a fun year in 2012 focusing on formal obedience training. Kya earned 2 legs toward her AKC CD title and we tried a few more times to finish it off during 2012 but just wasn't meant to be. We will get it next year! Kya also seemed to really get into gear when it comes to lure coursing, she earned a few first places from the ASFA Field Champship class and really gave some close runs for Breed wins. Kya is all about creative and getting that bunny though, so her follow some times leaves a bit to be desired. : ) For fun too, Kya earned a coursing ability title in Oct.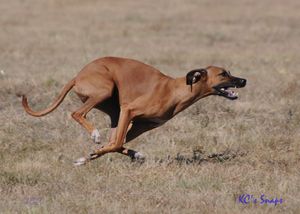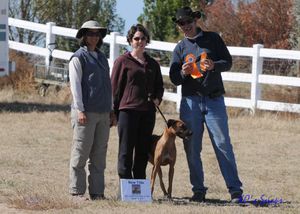 2011
Kya and I started on a journey in 2011 to train to compete in Obediance. We made our competition debut at the RRCUS National Specialty on September 14 in Rapid City, SD. What a debut it was! Kya did a great job in most exercises and really proved to be enjoying herself. So much so, she decided to break the stress in the room by running around the ring a few times in lure coursing fashion! Of course we didn't qualify, but we it was a great start and I was proud of Kya.

Kya ran in her second Endurance Trial at the RRCUS National Specialty on September 11 in Rapid City, South Dakota. (Her first was the year before in Ventura CA). Mark and Kya completed the 12 mile run successfully for her 2nd time! Kya just loves to run.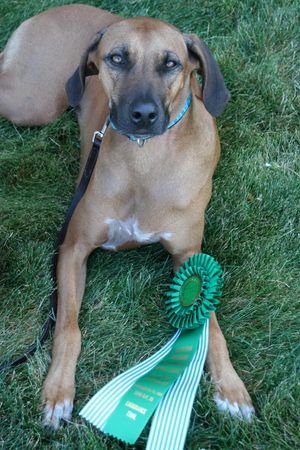 2010
November
Kya earned her Rally Novice title today in Pueblo, CO, Southern CO Kennel Club! She easily earned this title, with 3 tries, and 3 Qs!


Have you "herd"? Kya earned a Herding Instinct Certificate in Colorado, Nov 6, 2010! She worked those sheep very efficiently and gave them a good work out.
** pictures coming soon**


Kya had a wonderful RRCUS National Specialty in September, 2010. Kya earned her first Rally Novice Qualifying score on Monday with a third place. The next day she ran the 12 mile endurance trial to earn her ETtitle. On Thursday, she earned her Canine Good Citizen certificate! Go Kya!